Does the ship toss around much during the trip?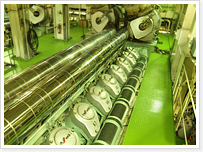 【Engines】
The Ogasawara Maru is a 6700-ton, 131-meter (430-foot) cargo-and-passenger ship sailing between Tokyo and Chichijima ("Father Island") in the Ogasawara archipelago, a journey of about 1000 kilometers (621 miles). Because the trip is over open water, the ship may indeed sway a bit from time to time. But be assured that the ship was designed specifically for this route; it is driven by two high-output engines and is equipped with a fin stabilizer that greatly reduces rolling (side-to-side sway).
How long does the trip take?
Travel time for the approximately 1000-kilometer (621-mile) journey is about 25½ hours. The trip may take longer, however, if ocean conditions are poor. Over the years, the trip has become faster with each ship change, as follows.

| | |
| --- | --- |
| Tsubaki Maru | In service 1972-73  1016 tons  44 hours |
| Chichijima Maru | In service 1973-79  2616 tons  38 hours |
| First Ogasawara Maru | In service 1979-97  3553 tons  28 hours |
Can I use my cell phone during the trip? Can I send and receive email? Are there any public phones on board?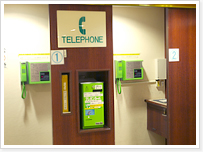 【Public Telephones】
Cell phones will work while sailing through Tokyo Bay, but will stop working after we move into the ocean. Two on-board public phones, which connect via satellite, are available for use after we enter the open sea. You will need one or more telephone cards, available for purchase on board, to pay for calls on these phones.
Can people from home contact on board in case of emergency?
Yes. They can call either of the public satellite phones on board. A crew member will answer the call, and page the relevant passenger. The phone numbers are: 090-3022-1798 and 090-3022-1799.
Are any meals included?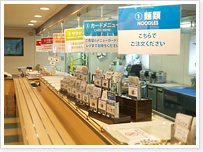 【Restaurant】
Food is available for separate purchase at the restaurant and deck snack bar, from the store, and from vending machines.
Restaurant Menu
Snack Bar's Menu
Can passengers bring cars, motorcycles, bicycles, and surfboards onto the ship with them?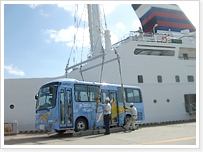 The Ogasawara Maru is not an automobile ferry, and you cannot board the ship in a car or on a large motorcycle (126 cc or larger). You may, however, transport cars and motorcycles as cargo. Cars are loaded by crane and fastened down to the deck for the trip, while motorcycles are placed in containers.

Other relatively large items-such as bicycles, surfboards, small motorcycles (up to 125 cc), and large trunks-may be placed on board, for an appropriate fee, as checked luggage. To check these items, please bring them to the Takeshiba Passenger Boat Terminal's luggage checking counter between 8:30 and 9:30 A.M. on the day of departure. They will be taken from you and loaded into containers or otherwise prepared for shipping.

Passengers may carry on personal effects to be used during the trip. Specifically, each passenger is permitted to carry on two suitcases, provided that each suitcase meets these conditions: the sum of the suitcase's length, width, and height must not exceed 2 meters (6½ ft), and its weight must not exceed 30 kg (66 lb). Additional luggage may be brought along as checked luggage, for the appropriate fee, as described above.

Note that we cannot accept the following items as checked luggage: construction materials, tools, hazardous materials, electrical appliances, furniture, and large motorcycles (126 cc or above). Such items must be shipped as cargo. Please bring them, in advance, to the Shibaura freight receiving area.
If you have any questions about cargo or checked luggage, please call 03-3455-0461.

For additional details, see:
About checked luggage

What happens if there's a typhoon in the area when we're supposed to depart?
The schedule may be changed in the event of a typhoon or otherwise poor sailing conditions. Check the top page of this website for the latest information about schedule changes.
What about passengers who use wheelchairs?
Please inform us about this when making the reservation, so that a crew member can be on hand to help with boarding and disembarking. Please note that the interior of the ship is not entirely wheelchair friendly, as passengers may need to negotiate steps and open or close heavy doors.
Can I travel with a pet?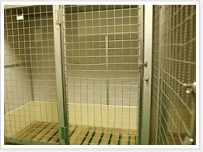 【Pet Room】
Pets are kept in the Pet Room. The charge for pets is half the adult 2nd class fare. Please check your pet at the checked baggage counter within the designated period.
When departing from Chichijima, pets can be checked at the ticket counter.
For details about traveling with pets, please see the 'Pets' page.
Some pets may be classified as non-native species that can negatively impact the valuable natural environment of Ogasawara. To prevent pets from escaping, we ask that you keep strict control of your pet at all times, both on the ship and during your stay on the islands.